Washing your pet is never an easy job and frequent bathing can be harmful to pets, not to mention cleaning sensitive areas like ears and eyes which is why AHC pet grooming wipes come out. You can count on AHC pet wipes that all of our formulations are produced safe for your pet and easy to use. With ingredients that provide the performance you require for your product, that makes cleaning sensitive areas an easy task.
You can get pet wipes for a lot of uses. Whether it's for cleaning dirty paws, keeping your pet smelling fresh or soothing sore skin. Pet wipes can be customized with ingredients that provide the performance you require for your product.
Some wipes may use harsh chemicals that could irritate the animal's skin, Yet, our pet grooming wipes are designed specifically to be safe on your pet. Make your life easier by using pet wipes to keep your pet clean. No stress, just wipe and clean as you go.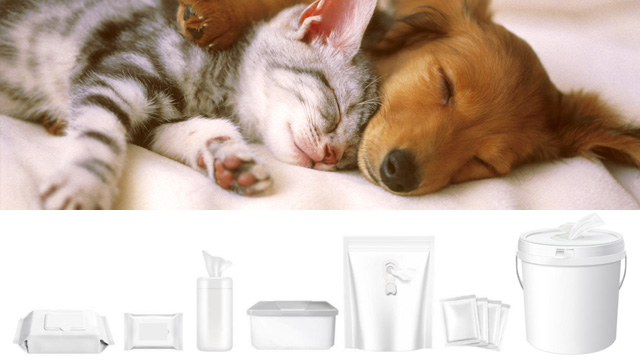 FOR CLIENT'S CUSTOMIZATION
• Non-harsh chemicals • Natural ingredients • No side effects on your hand skin • Remove dirt, sperms and bugs with ease • Make your pet's fur clean and glossy • Your own formulations are also welcomed at AHC.
Want to know more details, minimum order quantity (MOQ) and quotation of pet wipes contract manufacturing? please contact us. We are looking forward to your cooperation!
---
WHY CHOOSE AMERICAN HYGIENICS CORPORATION MANUFACTURE YOUR PET WIPES?
Your pet wipes will be manufactured in our EPA, as well as FDA-registered facilities with dedicated packaging suites, adhering to the strictest cGMP quality standards. All of our formulas are produced in-house with a wide array of ingredients, formulations, and fragrances (or non at all) you can choose from, providing you with the performance you require for your pet wipes.
---
THE CATEGORY OF PET WIPES:
• Deodorizing Wipes • Bamboo Pet Wipes • Dog Wipes • Tushie Wipes • Eye Wipes • Ear Wipes • Anti-itch Wipes • Tooth Wipes • Paw Wipes • Teat Wipes